Discover more from Road to Nowhere
Curious travel - thoughts & images along the way
Looks like the moon, no?
Looks like the moon, no?
...opined the receptionist as we arrived at our hotel in Reykjavik. From the little that we had seen on our way from the airport, it was hard to argue. Spectacular in its bleakness, I had a good feeling about Iceland.
Looks like the moon
According to What3words, our hotel can also be known as younger.aquatic.scout and I couldn't help but think that this was a good omen for Ethan's aspiration to explore the Blue Lagoon.
From the moment we arrived, everyone was remarkably friendly and helpful.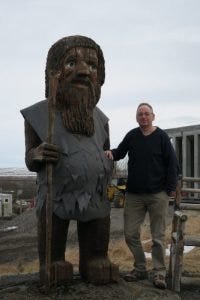 Even the motorists seem to defer to pedestrians. Where is the road rage? (I was later to find that it is, in fact, possible to induce this if one tries hard enough by sticking annoyingly to speed limits). Could it be that all of the national umbrage was used up during long past Viking raids and now Iceland is emotionally becalmed? Whatever the cause, the culture seems to be based on politeness and mutual respect, and that is hard not to like.
Of course, the politeness could just be a mechanism for diffusing any potential flashpoints over restaurant bills. Oh yes, Iceland: breathtakingly beautiful, eye-wateringly brutal and changeable weather and prices which combine the physiological effects of both and the aesthetic impact of neither. Retreating from the bars (£8 per beer if you would be so kind sir), we drifted into a supermarket to provision ourselves for the day of driving to follow. Several sandwiches, some crisps and chocolate? That'll be £60 please. Damn, they had better be good. I had thought that the Blue Lagoon prices were a little steep until I realized that equated to the cost of a packet of crisps. To be fair, this was all amateur stuff, Ethan (whilst menu surfing) discovered an Indian restaurant offering poppadoms for £52. No that is proper gouging.
So a few hours wandering around Reykjavik to the sound of pounding Icelandic rap spilling from one of the bars finally took its toll and we retreated back to the hotel. Something of a slog in the cold (walking had seemed like such a good idea earlier), but we were rewarded by the clouds parting to reveal a green curtain of aurora. My first sighting! Shame it was largely drowned out by the street lights, but you have to take what you can get. I was hungry for more, but Ethan had ticked the box in his mind and was ready to move on out of the cold. Maybe tomorrow...
Day 2 and time for some serious exploring, starting with a quick hop between two continents. Looks like someone has dropped in between - not often you get the chance for intracontinental travel.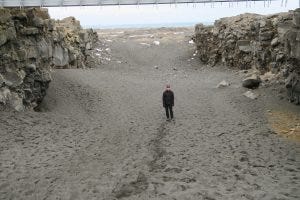 Back onto the European continental plate and on to see a series of geothermal wonders. I swear I am beginning to like the sulphury smell - although showering in fart water still takes some getting used to.
So, geysirs (or should I say THE Geysir - it being the original),
bubbling mud, steaming landscapes,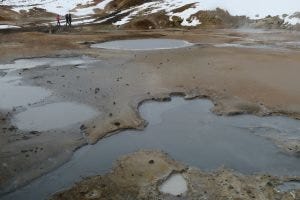 waterfalls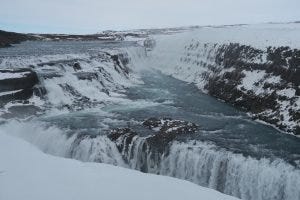 and savage, windswept vistas.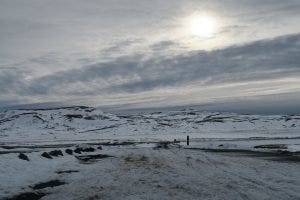 At Geysir (or more accurately Strokkur, which is the more active and hence tourist friendly), I was continually baffled and amused that people stood downwind of an erupting geysir - only to scatter in panic as they are engulfed in steam. Who could have predicted it?
According to What3words, Geysir's nomenclature is scatters.inclement.beliefs and, as I watched the tourists run for cover, I couldn't help but wonder if this was true. Takes all sorts.
Day 3 and an opportunity to explore Reykjavik during daylight - communing and empathizing with the unknown bureaucrat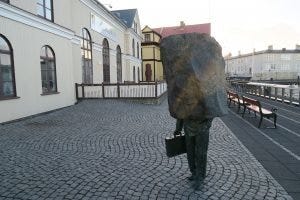 and then just time for a quick, heavy duty pastry breakfast from what appeared to be the most popular bakery in town.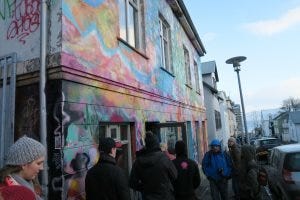 Just the thing before heading off to the Blue Lagoon en route back to the airport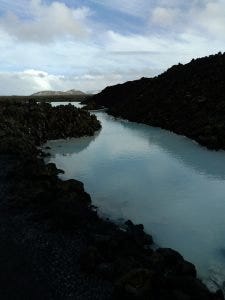 via a quick stop at a somewhat understated, and completely unannounced lava cave.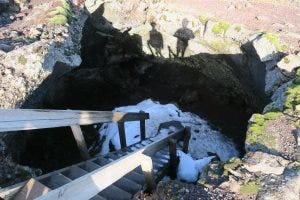 And just when I thought that Iceland couldn't hold any more surprises...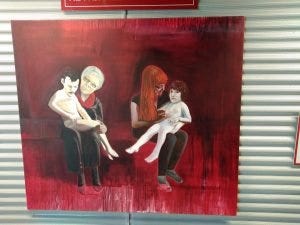 Outstanding!