Discover more from Road to Nowhere
Curious travel - thoughts & images along the way
Day 9 - The Sound of Humanist Banjo
Atlanta to Pigeon Forge via the Twilight Zone
I seem to be coming down with Ethan's cold now and could probably do without a long drive, but needs must.
First stop of the day - further into the back of beyond than we would generally like - is the Georgia Guidestones. This is a sort of mini Stonehenge commissioned by an anonymous donor, wanting to spread his message to humanity in multiple different languages. Much beloved of all the mystery and conspiracy shows, I felt it had to be worth a visit. Most of the message makes perfect sense, although the first few have been interpreted in some quarters as some iffy eugenics scheme.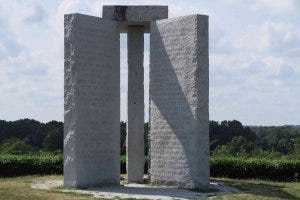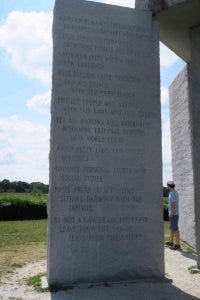 From here we drifted on to Tallulah Falls. This is where Deliverance was filmed - although you would never know it from the information in the visitor centre. Apparently, they don't like to draw attention to it. Not a single mention of purty mouths - very disappointing! Anyway, as I didn't have my crossbow with me, we decided to skip the long hike up the trail in the heat and settled for an ice cream instead. How intrepid are we?
From here, a long, slow, tortuous drive up into the Smoky Mountains and our cabin above Pigeon Forge. This genuinely is purty and I'm typing this sat in a rocking chair on the balcony overlooking this view...