Discover more from Road to Nowhere
Curious travel - thoughts & images along the way
Day 5 - Pyramids, Goats and Absinthe
Memphis to... well, Memphis
It would appear that Memphis has broken Ethan. Whether it is the syrupy air or some airborne malady emanating from the Mississippi, he seems to be struggling with a sore throat and feeling a little iffy. Looks like the Nicholls men will not be taking Memphis by storm tonight.
I just about convinced him to venture out for some food (first taste of catfish at the Flying Fish cafe - surprisingly good!), and then dragged him along to Beale Street to soak up the atmosphere. He clearly felt that he had soaked up enough of the atmosphere earlier in the day and dismissed the experience with a "Like Vegas, but sleazier". I don't necessarily disagree, but the music is much better. So with a sense of regret and a vague urge to head back to the absinthe bar later, we left Beale Street behind, reeling from Ethan's disapproval.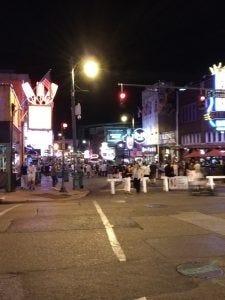 We stopped on the way to replenish our supply of Wild Turkey with honey, the new favoured tipple, which Ethan tried to pass off as a medicinal requirement. I was rather amused to be IDed for this (I'm assuming it is Tennessee law rather than holiday relaxation resulting in me looking under 21) and quite pleased to partake of the American tradition of carrying a bottle of spirits in a brown paper bag, Fitted right in with some of the locals.
Will have to sneak in past the Sleepless One though. The concierge in the building seems to be there 24/7. Not only is he in the lobby every time we have entered or left the building, but he has also been in the elevator several times when I have called it. I am beginning to be just a little freaked out by this...
It's been another long day, although one without driving. Had I booked the right day for Graceland, I would have had to get the car out of the car park. I would like to think that I had planned it that way, but it is clear that only one of us did any planning! Anyway, Graceland tomorrow left the day open for some exploring.
Wandering around Memphis, it is obvious that the recession has hit here. Much of it is very run down, although, in common with most US cities, it is easy to move from run down to swank in the space of a few hundred yards. I have to say that everyone is really friendly here - even people asking for money, No sign of the tension which is gripping large parts of the US in Memphis.
So, following an abortive attempt to visit the civil rights museum (not open on Tuesdays apparently; not our first inappropriate day for an activity on this trip), we wandered down the riverfront to the pyramid. Yes, Memphis has a pyramid. Get over it.
En route we passed a memorial to the Sultana disaster. I couldn't help but agree with Ethan when is espoused the view that anything involving sultanas is a disaster.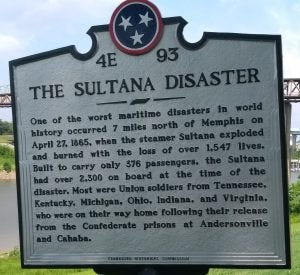 Onwards to the pyramid, which is a sporting goods store containing a fake swamp with real alligators - don't attempt to understand the logic, just go with it.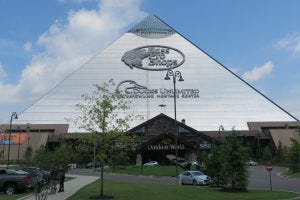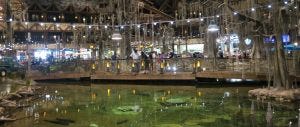 Following that, we trudged back through the heat for a boat trip, The trip itself was pretty dull ( just a loop between several bridges, but the commentary was quite entertaining and for at least half of the journey, there was a very welcome stiff breeze), but it was on the Mississippi, nuff said.
Oddest thing of the day? Irish goats. I must remember to ask Dec about this - I had no idea it was a thing: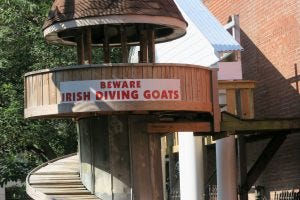 It's not clear whether the goats are Irish or whether they tend to dive at Irish people and hence the warning.