Discover more from Road to Nowhere
Curious travel - thoughts & images along the way
Day 2 - Drive until you drop
Three States in a Day - Washington to Winchester, KY
Not much sleep last night due to what sounded like a cricket ball rattling around the air-conditioning duct. Still, not a bad thing to be up early as the car hire company was already getting pretty busy before 7am ... and of course we do have some distance to cover today.
I am Ethan's bad books on 2 fronts with the hire car. Firstly, turning down the offer of a free upgrade to a Mustang on the basis that the cases wouldn't fit (wouldn't look so cool with the boot wedged open and a stream of stray underwear flying behind the car) and being assigned a car with New York plates, which I'm assured will not go down well in the South. Could be a long day...
Not much to see today as we blasted across Virginia (both the basic and West varieties), beyond some nice scenery and distant mountains which bode well for the return journey via the Blue Ridge Parkway and Skyline. We have had to amuse ourselves by admiring the custom registration plates passing us by. We have had
Giga TB, Dr Bytes, (presumably IT), Sparx (electrician?), Go Kart (a small Fiat with an encouragingly amusing bumper sticker stating, "* Actual Size") and our favourite XStacey I. We wondered whether this was deliberate or just that someone called Stacey was convinced that this was the closet she could get to a custom plate, much to the amusement of the people selling it.
Also encountered a rather strange toll road in West Virginia. We were charged twice along the stange stretch of road, without any opportunity to leave between the two sets of toll booths? Why didn't they just charge double at the first one I hear you ask. Good question. We could only surmise that it was some sort of job creation scheme. For the record, the toll road was the worst maintained road we have been on.
By mid-afternoon it became apparent that after the earlier hold ups on the I81, reaching the Buffalo Trace distillery was but a pipe dream and pulled over at a Bob Evans restaurant for some refreshment. The manager who came over bore a striking resemblance to the pictures of the founder and I couldn't help but wonder whether every branch of the franchise had a similar looking, middle aged genial manager called Bob. You don't mess with a winning brand! You can tell we are back in the States though . What's not to like about deserts with bacon?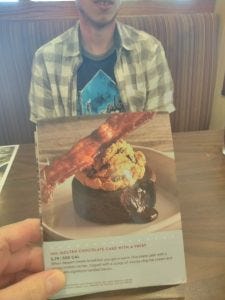 Onwards to Kentucky and a hotel in Winchester. Switched on the TV and seem to have slipped into a time warp...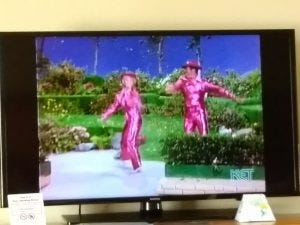 but at least Ethan can watch the baseball. Go Braves!
We have been researching drinking laws and been bewildered by the wet, dry, and moist (I have no idea) counties - some of the dry counties being the home to famous distilleries. Apparently even in wet counties, selling drink on Sundays is not allowed, nor between 29th December and 2nd Jan. That must have been some New Year's celebration.
We thought we would go out and source a bottle of the local delicacy, but the local general store did not seem to stock spirits. It did, however, have plenty of stereotypes, so we beat a hasty retreat.
As ever in the US, everyone has been remarkably friendly and 500 miles in the first day means we can take it easy for the next couple. Weather forecast for Monday seems to be improving (fingers crossed) so, all looking good.