Discover more from Road to Nowhere
Curious travel - thoughts & images along the way
Day 11 - On the Trail of the Lonesome Pine
Pigeon Forge to Roanoke
Time for the return leg back to DC. Goodbye to the South and thanks y'all!
An epic drive today. Could have been more epic as we had intended to do the entire route via the Blue Ridge Parkway but, once it became apparent that this would cause us to miss our homeward flight in a week's time, we diverted onto interstates for part of the route.
The Blue Ridge Parkway itself is as scenic as you might expect, but dangerously so. Not only is it distracting, but there is an urge to stop at every overlook, which would extend the journey time beyond the end of the universe. To be honest, it all looks very similar and, although it is quite spectacular with layers of mountains gradually fading into the distance, I don't think that the camera will do it justice. Still, this country has far too much space and too much scenery!
Mighty fine view!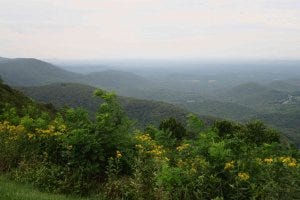 I couldn't help thinking about the Waltons and Laurel & Hardy as we drove through. Just looked it up and we are not far from the Walton's museum - I think they have the original farmhouse used in the TV series. Little too close to Charlottesville for comfort though and Ethan has no idea what the Walton's was all about.
We have probably seen more of rural America today than on any of our other trips. Lots of it looks very pleasant and patriotic (I can't imagine seeing that sort of concentration of flags outside houses in the UK). Other parts look a little more sinister with menacing looking shacks and imagined sheds full of meat hooks. We were both a little concerned when the sat nav threw a wobbly in Arse End, Virginia.
There are of course some great place names. I was somewhat disappointed, given that I know there is a theme park containing a full-size replica of Noah's Ark, that is wasn't on Mount Ararat Hill as we drove through.
We resisted (well mostly) the urge for juvenile humour at Rocky Knob and by the time we passed through Back Creek after almost 10 hours of driving, it sounded oddly prophetic.
A lightweight 7 hour scenic drive tomorrow...